Plastics Application Manager
The Plastics Application Manager is an SME regarding developing Polyolefin (PP, PE, TPO) products and applications. This expertise must include UV stabilization, processing, and testing of Polyolefins, including formulations for outdoor applications.
The role of the Plastics Application Manager is to lead and manage a team responsible for developing, testing, and applying plastic materials across various industries. They play a crucial role in ensuring that the plastic materials are utilized effectively, meeting industry standards and safety regulations, and contributing towards achieving the organization's objectives.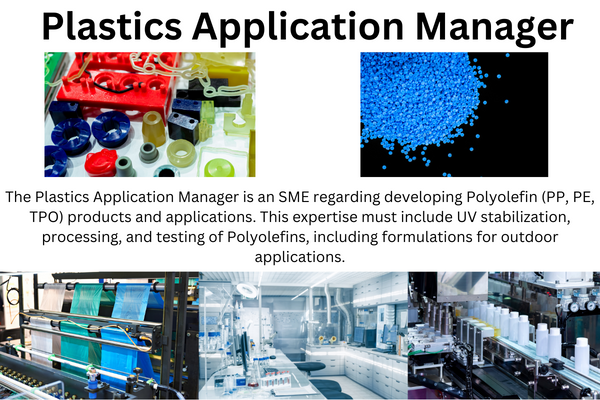 Responsibilities:
Oversee the operation of the Plastics Lab.
Maintain and update daily the Technical Support Request records.
Laboratory data and trials should be developed to meet the customers' needs and provide them with the necessary support.
Provide technical reports and progress summaries to the Commercial and/or Development Teams.
Develop standards and practices for the plastic application markets.
Understand and analyze new products for expanding applications markets.
Develop and present comparative data with competitor products.
Supervise a Lab Chemist
Education, Experience, and Skills:
US Citizens and Green Card Permanent Residents ONLY!
5+ years of experience developing Polyolefin products and applications is required, with a degree in Engineering, Plastics, Chemistry, or a related field.
The ideal candidate should possess extensive knowledge and expertise in UV stabilization, processing, and testing of Polyolefins, along with the ability to formulate them effectively.
Experience with film, fibers, tape, and sheets in outdoor applications – familiar with their properties and characteristics and how they perform in various weather conditions.
Having experience with standards testing and being familiar with organizations such as ASTM and ISO are required.
Location: Mount Pleasant, South Carolina – relocation assistance is available
Compensation package includes the following:
A competitive salary, DOE, $110,000.00 to $130,000.00.
Full benefits
Job Category:
Application Manager
Job Location:
Mount Pleasant South Carolina
Comments are closed.